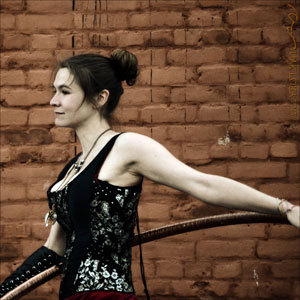 Port Townsend is invaded by wave upon wave of bands, street performers, vendors, costumed adventurers, and the most eccentric collection of humanity this side of the time-space continuum. We are particularly honored to welcome Cog Is Dead all the way from the far-opposite corner of the country, Daytona Beach, Florida.
In 2016 masters of musical craft will once again delight with their talents day and night...
And then it all vanishes in a puff of steam Sunday afternoon. Won't you join us?
The music never stops at the Brass Scew. The 2016 hijinx included for the member-in-good-standing are:
Friday night's Den of Iniquities (Cotton)
Saturday Night's Steampunk Hootenanny is by separate ticket purchase, 21 and over, ID required. There will FREE shuttle from Cotton Building to Fort Worden Saturday from 6:30 PM to midnight
Frenchy and the Punk
Frenchy and the Punk's performances are a life affirming, danceable, eclectic foot stomper of a show that will take you from Paris to CBGB's and back again. Doused in red wine, kale and granola, raised on punk rock and ballet, eclectic and uplifting…fun with a capital F! This "unique two-person indie folk punk powerhouse," based in New York, has played nearly every major Steampunk event known to man. One of the early bands in the Steampunk scene, they have been touring across the US and Europe for 12 years. Yahoo music named them one of the Top 25 Duos in America. The pair is made up of bilingual French-born dancer turned singer and percussionist Samantha Stephenson and guitarist Scott Helland who was a founding member of the legendary hardcore punk bands Deep Wound with Dinosaur Jr's J Mascis and Outpatients. Visit www.frenchyandthepunk.
Together this dynamic duo has released 6 CDs, produced a live concert DVD, a 30-page art book, a 50-page lyric and photo book, Scott's 6 solo CDs, over 500 finger puppet bats sewn by Samantha, music in a dozen TV shows and have performed close to a thousand shows together. They'll have CDs, shirts, pins, patches, stickers, artwork and even some of Frenchy's Bohemian finger puppet Bats at their merch booth!
"They say you can't please everybody… sounds like a challenge to me!"
---
Nathaniel Johnstone Band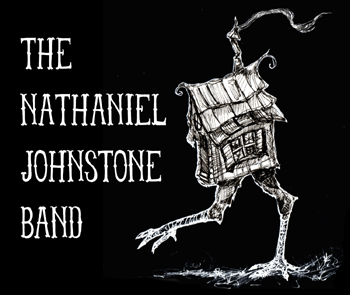 The Nathaniel Johnstone Band hails from Seattle, WA, lead by multi-instrumentalist Nathaniel Johnstone (violin, viola, banjo, mandolin, and guitar). Their vibrant sound crosses boundaries and borders, resulting in a blend of European, Middle Eastern, and South American music with Jazz, Rock, Surf, Folk, Gothic, and Steampunk influences.
Joining the band on stage is world-renown bellydance fusion artist Tempest, adding another incredible level to the band's dynamic stage show. All together, they provide an incredible audio-visual experience that delivers solid, reliable music and high-quality entertainment - all while getting folks up and dancing!
---
Professor Pendergrast's Perfectly Pleasant Peep Show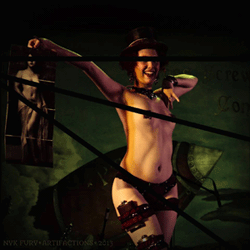 Experience the Brass Screw's larger-than-life Burlesque Peep Show where for just a little cold cash you get more hot girls than you can handle. Behold! Our tantalizing temptresses of burlesque and seedy sideshow spectacles and fire manipulation artists, the olio of Velvet Revolution strokes your very soul like a happy chicken with a panorama of feats not to be missed.
---
Den of Iniquities Saloon
Step out of the hustle and into our Steampunk Saloon replete with absinthe and a smoky haze of music. Set across the street from Brass Screw High Command at the Cotton Building (607 Water St) from 7-11pm Friday evening. 21+ and over. Featuring:
Hot Damn Scandal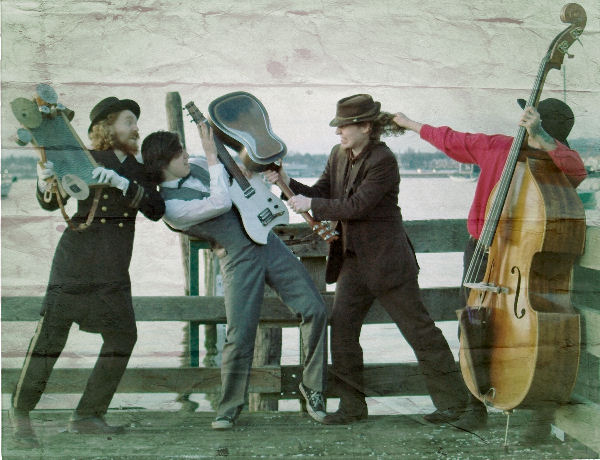 Finds its songs under park benches and in forgotten alleyways. The resulting outlaw ballads, dirty jazz, circus freakouts, shanty-rags, string band funk, lonesome heart-breakers, and whiskey bottle love songs blend together in a sweet song syrup somewhere between a ramble and a roar. Sometimes called Tipsy American Gypsy Blues , Hot Damn Scandal pulls no punches and puts thunder in your molasses.
Friday night (Cotton Building)7pm.
"Hot Damn scandal performs music that seems to be carved out of the broken heart of the American dream… you feel like you have heard these songs all your life. These are your favorite boots, your lucky hat, your Saturday night shirt, Your old dog that disappeared after the rain" – Scott Casey
Crow Quill Night Owls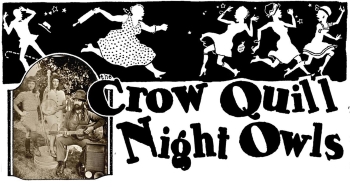 The Crow Quill Night Owls are a band that plays jug band, jazz, and string band music of the 1920's and 1930's. They were formed in 2007 by guitarist Kit "Stymee" Stovepipe and tenor banjoist Windy City Alex. they've since added Baylin Adahere on washtub bass. The group fluctuates from a duo to a six person band and often features members of other bands in similar genres.
In addition to the Friday and Saturday night shows, we're dedicated to bringing you the Pacific Northwest's finest steamy, whimsical entertainments with many additional bands featured on our stagesat the Cotton Building's Boat Bar and the Northwest Maritime Center's Venue at the Bazaar. You'll never know who you'll see (but here're a few hints)...
Rogue's End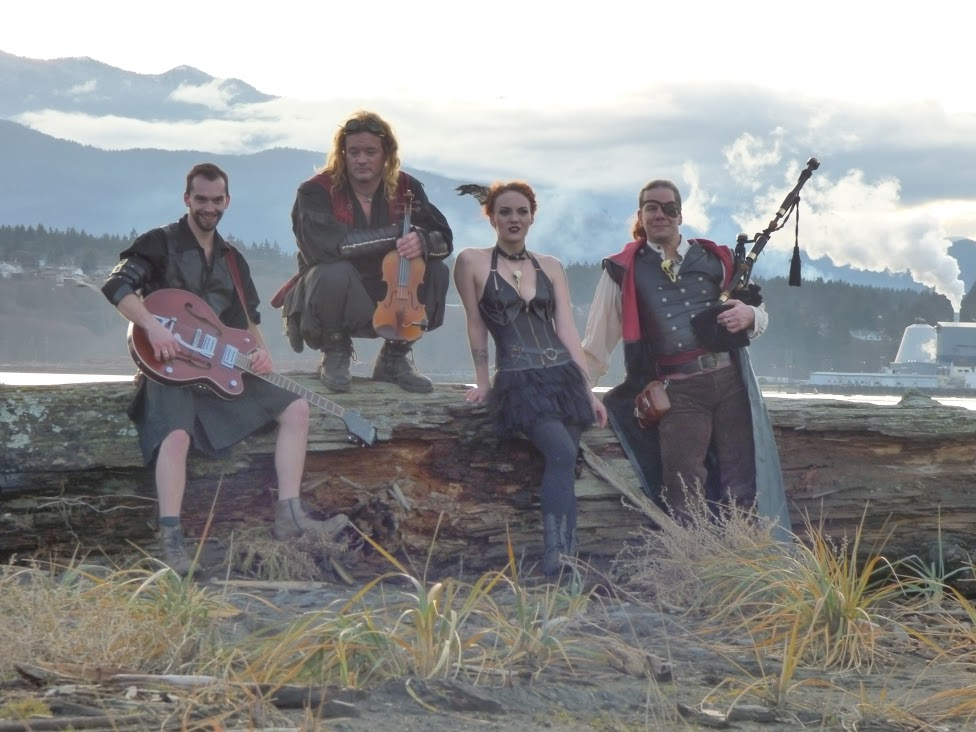 Prepare yourself for a wild time with Rogues' End; the Gypsy, Celtic, Pirate, Steampunk band that you will thoroughly enjoy!
Our wide interest in different types of music makes Rogues' End's sound as unique as the people who make up our jolly crew. Mostly heralding from Port Angeles Washington, our members individually have performed all over the country and parts of Europe! Click on the pictures below for individual biographies of each of our talented members! Get to know a Rogue
Intuitive Compass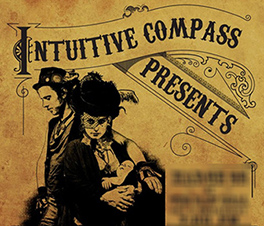 Revolutionizing the model of the bohemian lifestyle, following their Intuitive Compasses, the group is a family FOLK show all its own, from a one man band to a Vaudeville Medicine Show, often including Fire, Aerial Acrobatics, with a splash of the Wild West...Dedicating their lives to the traditions carried on by the living troubadours of today, their show is a bit like time travel.
After-hours at the Cellar Door
Come on down to Port Townsend's newest oldest speakeasy, and enjoy some fantastic tunes and superior craft cocktails. Located in the historic James & Hastings Building built 1889, Cellar Door occupies the basement space, once a haven of opium, shanghaiers (commonly known as "Crimps") and other nefarious goings-on... Only marginally more proper in the 21st century, Cellar Door (940 Water St - entrance on Tyler St) focuses on locally foraged ingredients in our food and drink, creating many infused spirits, house made liqueurs, barrel-aged cocktails and more. 21+ only for this event, Friday Evening 10pm-???
Saturday Night Hootenanny
This is the culmination of our annual confederacy! Bands, burlesque, bars and breath-taking displays of daring-do!
Musical lineaup:
Absinthe bar
Magic Lantern Show featuring the harrowing adventures of the League of Steam
Duelatorium where you can test your valor
The steamiest collection of people you've seen since last year's Hootenanny - plus three who are gonna blow your socks clean off.
Sound and Fury Morris Dancers
Experience traditional English Morris dancing. Such festivities were performed for Queen Victoria to insure her continued stability and Port Townsend could use a bit of that blessing too.